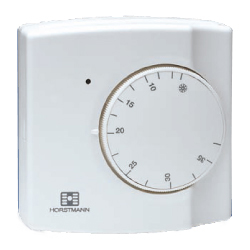 A recently introduced 10amp central heating room thermostat that majors of functionality, reliability and a clean, aesthetic design.
For use with all central heating systems which respond to a mains on/off signal.
NEW 10amp contacts
Bi-metallic sensor for rapid and accurate response to temperature variations.
Rotating dial permits settings between 5ºC and 35ºC
Can be directly wall mounted via the in-built patress.
Ventilated enclosure
Moulded in bright white for a modern yet discreet appearance
Fully compatible with Horstmann motorised valves and central heating programmers.