Duplex Stainless
The Stainless Lite uses the very latest
high specification Duplex to resist all
forms of corrosion including crevice
and stress whilst its high
mechanical strength gives it the
strength for long life.
It is particularly light and easy to
handle on site.
Manufacture
The very latest automated welding
procedures along with full post weld treatments
guarantee welds that are as strong as
the parent material. Stainless Lite is pressure
tested in the factory to a full 12 bar which
is four times the normal working pressure.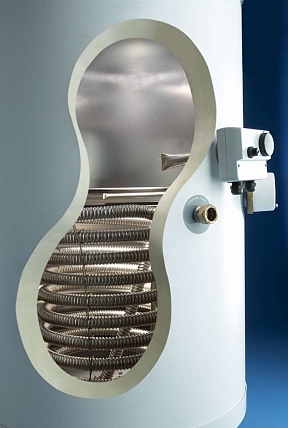 More Hot Water
Stainless Lite uses a high heat
transfer corrugated tube heat exchanger to give 20% faster recovery than
plain tube. It is also lighter and
stronger than plain tube making
the vessel the lightest and easiest
to handle on site.
Controlled Stratification
The unique Gledhill diffuser reduces
turbulence when cold water enters
the store by baffling the flow
Minimal Heat Loss
Tests show that the 50mm
of polyurethane foam injected into
the case and covering both
domes achieves astonishingly low
levels of heat loss.
Guarantee
The 25 year guarantee underlines
the usual Gledhill confidence in its own products.