Hot water and heating from a thermal store
The Torrent Stainless OV provides high-performance mains pressure hot water via the plate heat exchanger. The heat energy provided from the primary heat source and/or solid fuel input is circulated from the store to the central heating circuit, allowing rapid heat-up of a radiator system.
Electric-only installations with a thermal store
In situations where no gas or solid fuel source is available the Torrent Stainless OV can be heated exclusively from the two 3kW electric immersion elements which will provide both hot water and heating for the property*. The obvious application is apartments where no gas main is available, but this could also be appropriate where electricity is available from a renewable or low carbon source.
It is possible for the auxillary heating to be supplied from the store, but this is only powered by the lowest immersion. It is important to note that the design heat loss, of the rooms to be heated, must be less than the lowest immersion power.
If connected to the standard grid then the thermal store is the perfect solution to maximise usage of an off-peak tariff where arrangements should be made to power the lower immersion element, in order to minimise the running costs.
*Appropriate calculation should be made to ensure sufficient energy for CH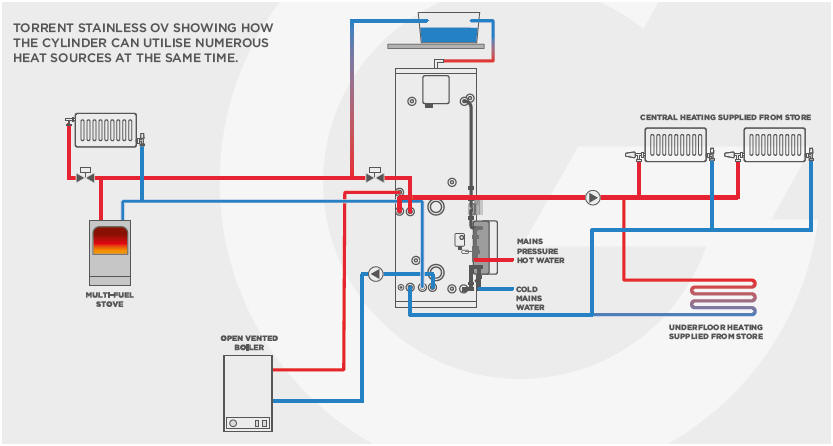 Gledhill TORRENT Stainless OV Technical Specification

MODEL

TST150-OV

TST180-OV

TST210-OV

TST250-OV

TST350-OV

SPECIAL OFFER

£ inc VAT

1124.23
1247.50
1281.95
1476.64
1692.90

---

ErP rating
B
B
B
C
C
Unit height
mm
1118
1306
1494
1744
1765
Unit diameter
mm
550
550
550
550
630
DHW volume
litres
140
170
210
250
350
Max hot water flow rate
l/min
26.5
26.5
26.5
26.5
26.5
Maximum Dwelling Type
Bath
1
1
2
2
3
Shower room
-
1
1
2
2
Bed
1 - 2
2 - 3
2-3
3 - 4
4 - 5
July22
Optional feed & expansion tank (F&E)
Type 1
Standard F&E tank supplied with standard plastic float and valve
£75.00 inc VAT
Metal
High temperature copper header tanks are also available. Click here for details